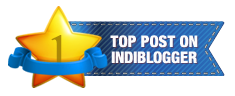 WISHING MY FRIENDS AND WELL WISHERS IN THE BLOGOSPHERE, A JOYFUL AND PROSPEROUS
FESTIVAL OF LIGHTS.
This is a festival which always inspires me to celebrate it in a traditional way as was done in my parents house. Though to bring back that enthusiasm and religious fervour is impossible in the changed life styles, still I do my bit to continue with some practices which give me loads of pleasure and some satisfaction. I'm referring to lighting clay diyas.
Today morning I religously prepared the wicks from the cotton puffs by placing a small piece on my left palm and twisting it patiently into wick shape with the palm of the other. A technique which my dear mother taught me in those heavenly days. I then set the wicks in the diyas and poured mustard oil very carefully to avoid spillage. Come evening I'll place them at points where the wind won't affect them.
Most part of yesterday was spent by two of us, (who feel more young than, when we were really young) in arranging multi- colored fancy strings of tiny electric bulbs on the parapet of the roof. We avoid calling those ill behaved urchins to do the job. BOTH of us enjoy the personal touch which we imbibe into the activity.
A visit to the Gurudwara to light the candles and offer prayers in the evening together with visiting a couple of neighbors constitute the evening jobs. Back home to switch on the lights, light the candles and diyas and soak in the festive spirit while twinkling lights overhead play a game of intriguing shadows around us. Before the neighborhood youth, start exploding deafening bombs and crackers, we come inside. we believe in enjoying the Green Diwali and exhort others to do the same.
At last, there is time for some indulgences, without which this special festival is incomplete. A free run to our taste buds with our favourite home made delicacies and some sweets from the market complete the merriments of our little world. The well lighted house is ready to receive the goddess of wealth!
Lots of love and blessings to all !!!