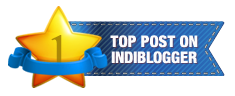 I captured the hoopoe hurriedly pecking with his long sharp bill at mid morning, yesterday. I spotted him from the window and cautiously went out and clicked.
Late afternoon click of the trio of mynas on a mildly hazy day during a walk at some distance from home, about a fortnight back.
The singleton pigeon seems to be contemplating the next move perched on the transmission lines in front of our house.
Friends welcome here as always!
Linked to:
CAMERA CRITTERS
SATURDAY CRITTERS
,
I'D-RATHER-B-BIRDING